THE SINNEN AWARD:
Awarded annually by the Board of Directors to each Tidewater Driller team player who best exemplifies the qualities Dwaine loved in the players he coached and watched: Hard Work, Hustle, Dedication, Enthusiasm, and Selflessness.
Dwaine admired boys who never quit and were team players, loved the game and led by example, and never stopped hustling.  Dwaine Sinnen loved baseball and what it brings out in the young people who play it. He taught pick-off moves and double steals but also preached sportsmanship and team plays.
Most of all, those who played for him, including his three sons, will attest to the countless lessons he taught that was bigger than the game. What has become known as "the Driller Way" – an unquestionable dedication and respect for oneself and others -was long before taught and practiced by Mr. Coach Dwaine Sinnen.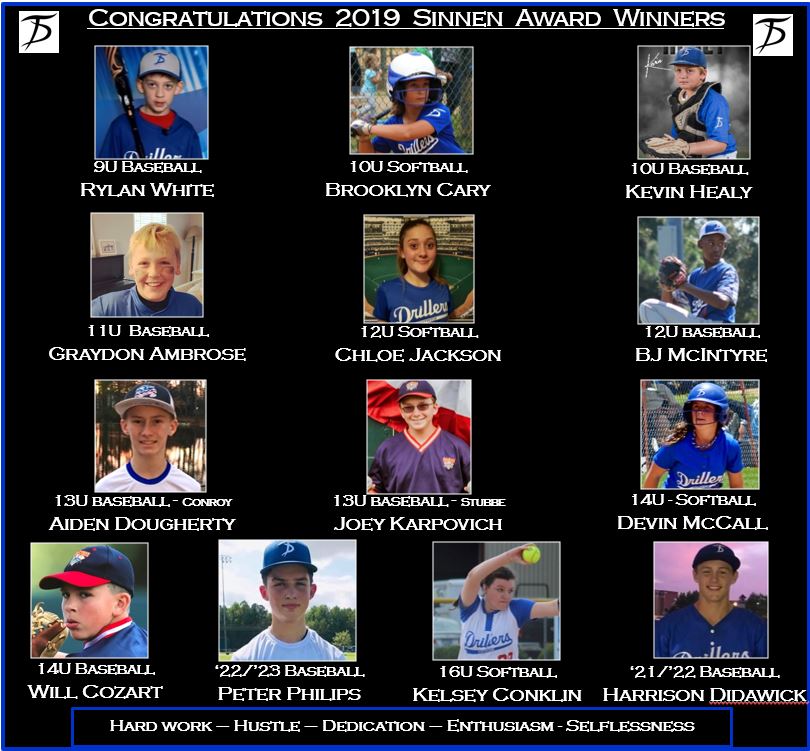 2019
9u Baseball- Ryan White
10u Softball – Brooklyn Cary
10u Baseball – JKevin Healy
11u Baseball – Graydon Ambrose
12u Softball – Chloe Jackson
12u Baseball – BJ McIntyre
13u Baseball (S) – Joey Karpovich
13u Baseball (C) – Aiden Dougherty
14u Softball – Devin McCall
14u Basebll – Will Cozart
2022/2023 Baseball – Peter Philips
16u Softball – Kelsey Conklin
2021/2022 Baseball – Harrison Didiwick
2018
10u Baseball- Grayson Friske
11u Baseball- Jackson Campbell
12u Blue Baseball- Hudson Bartley
12u GreyBaseball – Mason Yavoich
13u Baseball- Daved Holloway
14u Baseball- Nic Ventrice
15u/16u Baseball – ​Ben Adams
2017
9u Baseball – ​Logan Jefferies
10u Baseball- RJ Sanchez
11u Blue Baseball – Blake Heselius
11u Grey Baseball – Wes Stubbe
12u Baseball- Dawson Newman
13u Baseball- Caden Ward
14u Baseball- Rush Friedberg
15u Baseball- ​Carson Demartini
2016
9U Baseball- ​Cooper Townsend
10u Baseball- Sean Jefferies
11u Baseball- Zachery Brunnelle
12u Baseball- Alex Kowlasski
13u Baseball- Max Wickum
14u Baseball- Bryce Jones
15u Baseball- ​Kevin McCabe
16u Baseball- Aaron Morse
2015
9U Baseball- ​Bryan Sleiman
10u Baseball- Bubba Sawyer
11u Baseball- Riley DeCandido
12u Baseball- Landon Bonneville
13u Baseball- Cooper Nelin
15u Baseball- ​Connor Holland
2014
9U Baseball- ​Keaton W. Hanbury
10u Baseball- Conner Lewis
11u Baseball- Rush Friedberg
12u Baseball- Carson Ashby
13u Baseball- Ethan Firoved
14u Baseball- ​Trent Jones
2013
9U Baseball – ​Connor Hutchinson
10u Baseball- Gavin Spencer
11u – Feniwkc Trimble
12u Baseball- Dane Hoggard
13u Baseball- Nick Biddison
17u Baseball- Glen Pizzanello
2012
9U Baseball- ​Collin Schmitt
10u Baseball- Jonny Wall
11u Baseball- Wyatt Reid
12u Baseball- Nick Dinini
​12u Baseball- Kyle DeLaura
13u Baseball- Riley Clifford
14u Baseball- Will Mackey
15u Baseball- Seth Houston
17u Baseball- Kenner Berry
​17u Baseball- Nick Faison
Showcase Baseball- Alex Shauger
​Showcase Baseball- Brandon Hamm
2011
9U Baseball- ​Drew Duffy
10u Baseball- Riley Leadenham
​10u Baseball- Cameron Wallace
11uBaseball – Wes Pierce
12u Baseball – Christian Moss
16u Baseball- Colin Ballard
2010
9U Baseball- ​Tommy Dye
10u Baseball- Hunter Williams
11u Baseball – Cam Reckling
13u Baseball- Scott Bowman
15u Baseball- Jordan Sergen
2009
9U Baseball- ​Conner Butler
10u Baseball- Matt Balance
12u Baseball- Cole Coons
13u Baseball- Brock Davis
14u Baseball- Kurt Sinnen
2008
9U Baseball- ​Jayden Tysinger
10u Baseball- Matt Cooper
11u Baseball- Jonathan Marsh
12u Baseball- Jackson Walker
12u Softball – Kayla Johnson
13u Baseball – Zach Neice
2007
11U Baseball- ​Zach Rutherford
12u Baseball- Turner Bishop
13u Baseball- Connor Staskey
14u Baseball- Killian Streen​
2006
10u Baseball – Kyle McPherson 10u Baseball –  Greg Beale
11u Baseball – Sam Sinnen
12u Baseball- Timothy Kelly
13u Baseball- David Nosal
16u Baseball- Zach Wolff​
2005
9u Baseball – Kyle Butler
9u Baseball – Justin Hayes
10u Baseball – Kyle Morrison
11u Baseball – Connor Collins
11u Baseball – ​Matt Campbell
12u Baseball – Cameron Begley
15u Baseball – Max Fischetti
16u Baseball – Kyle McBride
16u Baseball – Reid Killan
2004
15u Baseball – Jonathan Whited
​15u Baseball – Robert Morey
2003
9u Baseball – Joe Bishop
10u Baseball – Killian Strenn
11u Baseball – Kyle Roberts
12u Baseball – ​Seth Cutler-Voltz
13u Baseball – Blake Boyce
14u Baseball – Daniel Rye
15u Baseball – Lee Turner
16u Baseball – Beamer Weems​
2002
9u Baseball – Tyler Ballard
10u Baseball – Justin Tabora
11u Baseball – Chris Taylor
12u Baseball – ​Ben Tomchick
13u Baseball – Travis Peszko
14u Baseball – Wynton Weathers
15u Baseball – Alex Ownes
2001
10u Baseball – Kyle Seamon
11u Baseball – Zachary Rivas
12u Baseball – ​Vinny DeLalla
13u Baseball – Justin Neumann
14u Baseball – Steve Augone
16u Baseball – Justin Jones
2000
12u Baseball – ​Ryan Adcock​
1999
9u Baseball – Drew Wilkinson
10u Baseball – Joey McDaniel
11u Baseball – Josh Hurwitz
12u Baseball – ​Jordan Medlin
13u Baseball – David Winfree, Jr.
14u Baseball – Brooks Sinnen